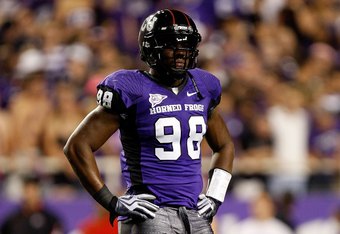 For the 31st pick of the NFL Draft, many expected the Colts to draft an offensive tackle or someone like that. People were just hoping for someone who can contribute on offense.
But I guess the Colts will do that in the later rounds, picking up Jerry Hughes, defensive end/linebacker from TCU. In my opinion, I really don't see this as that bad of a pick.
I say Hughes could be one of the futures of the Colts. I think the Colts will rotate him at many positions. He could be a very valuable asset to the franchise. Before we get into this, let's take a look at his career profile in college and such.
Hughes was probably the anchor of this Horned Frogs' defense. His last two seasons have been the most significant of his career, putting up 31 tackles and 15 sacks in 2008 and 32 tackles and eleven sacks in 2009.
For his career, Hughes has had 142 tackles, 28 sacks, and three interceptions. Hughes is also a fast athlete for his size at 6'3″ and 260 pounds.
After seeing his stats, it seems like he is one of those combo 3-4 linebackers you see today. Putting up tackles and sacks. But since Indy has lost Raheem Brock, the Colts will look to replace him with Hughes.
The Colts are known for fast defenders. I mean, just look at Robert Mathis and Dwight Freeney, possibly the fastest defensive-end combo in the league. Hughes will be just another one of them. He will look to pair up with Mathis, Freeney, and Daniel Muir.
The Colts could also do this, too: put Mathis at left defensive end, Hughes at right defensive end, and Freeney and Muir as the tackles. It might fit better. But the Colts probably might not be look towards that.
Just an idea.
Indy sometimes does a rotation with their ends. Hughes could play DT and sometimes replace Mathis and Freeney at end when they need breaks throughout the game. We seen it happen last season. Sometimes Mathis and Brock went into rotations.
The Colts also do more with Hughes.
They could use him as a DE/LB combo. He could play some minutes at the linebacker position. Since TCU played a different defense, I believe, Hughes will probably have to adjust to the 4-3.
Like I said before, he is playing defensive end as the Colts announced. Bill Polian says the Colts have been looking for third pass-rusher for a while. It could work with Hughes at linebacker sometimes.
The Colts could use him in a blitz package when they put him at LB.
It'll look pretty good to me.
But as the day ended yesterday, the Colts got who they got and they're happy to have him. I am, too. I say it's an excellent pick.
The Colts should get him into business right away. Probably start him somewhere or be in a rotation with Mathis and Freeney. But whatever they do, Hughes is gonna make a difference.
Get excited Colts fans.
This year is gonna be different.