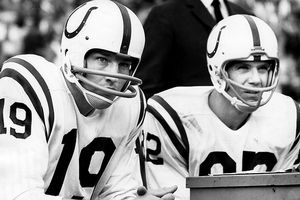 Paul Kuharsky of the AFC South blog says the best Colts team ever was the 1958 Baltimore Colts. It was the team that was featured in the Greatest Game Ever Played. Remember?
Here's a little excerpt from Kuharsky's blog post:
It's very difficult to choose against the 1958 NFL champions, who took the crown with an overtime win in "The Greatest Game Ever Played." That win over the Giants at Yankee Stadium avenged a regular-season road loss to New York and did much to propel the NFL and football to prominence.

It's prompted books with subtitles like "The Birth of the Modern NFL" and "How the 1958 NFL Championship Changed Football Forever."

And Baltimore's lineup featured six players — Berry, Donovan, Marchetti, Moore, Parker and Unitas — who are in the Pro Football Hall of Fame, as is their coach, Weeb Ewbank.