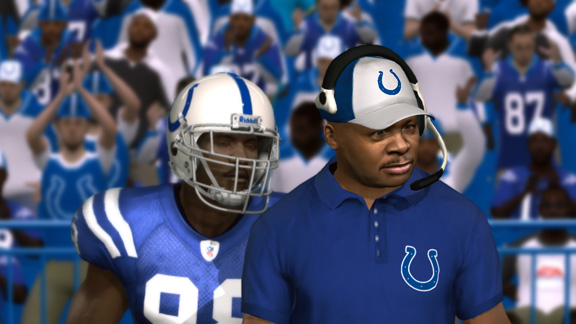 Usually when I play my XBOX360 console, I usually am stuck playing Call of Duty and NBA 2K10 right now. Once Madden 11 comes out, it seems like I'll be hooked. The Colts were given  a 91-team-rating, which makes them the second-best in the game.
Here is my review of the ratings.
Quarterbacks
Peyton Manning isn't much of a surprise, receiving a 99. Much of the main categories are 97 or higher. Curtis Painter was terrible last year and so is his rating at 61. He's lucky he even got past 50.
Running Backs
The runnings backs/fullbacks are okay here. Though Joseph Addai has an 86, through his struggles for the past few years, he has a lot elusiveness in the game. His juking, elusiveness, and everything else that falls something similar into the category looks sharp. Donald Brown sits at a 78 but shows speed. Gijon Robinson and Jacob Tamme are 70 and 68. Mike Hart falls at an 65.
Wide Receivers/Tight Ends
Dallas Clark and Reggie Wayne are both 96. Clark fits nicely but I would rather see Wayne at an 97 or 98 instead. But 96 is still good. Pierre Garcon should be an 84 instead of an 80. Anthony Gonzalez takes a major downfall at 75 while Austin Collie sits ahead at 76. Sam Giguere, who looks as if he is the next Wes Welker, has a 66. Not a surprise, since he's a rookie. I mean, I saw Welker have like a 64 back in Madden 07 or something.
Offensive Lineman
Jeff Saturday stands at top at 92. Behind him is Ryan Diem and Charlie Johnson who sit at a 85 and 83. Mike Pollack has a 76, Tony Ugoh falls to 72, Kyle Devan has a 72, Allenman has 71, Teryy has 72, Jamie Richard has 71.
Linebackers
Gary Brackett was the leader of the Colts' linebacking corps and sits at an 87. That fits right for him. Clint Session has a lot hard hits and sits at 80. I'd rather see him a bit higher. Some where around 82, maybe. Phillip Wheeler, who will start this year, is at a 70. Pat Angerer goes at 66, and Cody Glenn sits at 46.
Defensive Lineman
Dwight Freeney and Robert Mathis, after a tremendous year together, dominate with a 97 and 95. Antonio Johnson and Daniel Muir will be the starting defensive lineman, who sit at 78 and 75. Rookie Jerry Hughes has a 74. Some others are Keyunta Dawson at 73, Eric Foster at 71, Fili Moala at a 66, and Ervin Baldwin at a 64.
Kickers and Punters
Adam Vinatieri is so lucky he even in the 80's. Vinatieri sits at an 82 and has been terrible for the past two years. Pat McAfee gets an upgrade at 77.
Defensive Backs
Antoine Bethea and Bob Sanders sit at the top of this chart at 95 and 89. Hopefully, if Sanders stays healthy, he can get back up in the 90's again. Kelvin Hayden stepped up as he has an 85. Jerruad Powers and Jacob Lacey have an 81 and 71. Lacey should be around 76. Melvin Bullitt has a 79 and he could be climbing more and more soon.
So that's the ratings. What do you guys think of them?