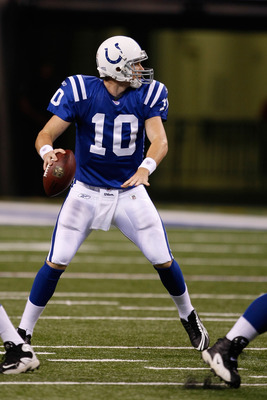 There are some guys on NFL squads that could be the odd man out. Some of them deserve to be out because they haven't performed well or somebody out performed them.
For the AFC South, there's a bunch. With training camp coming up, this is the time for players to prove themselves of why they deserve to make the roster on teams like the Indianapolis Colts, Jacksonville Jaguars, Houston Texans, or the Tennessee Titans.
Here are ten players in the AFC South division that are on the roster bubble. Could they get cut? Possibly. Read on to check it what players I named.
Enjoy.
10. Ervin Baldwin
Ervin Bladwin was a great defensive end for the Michigan State Spartans. He was playing for the Chicago Bears earlier, but got cut. Now he hold the third defensive end spot on the Indianapolis Colts' roster.
But look here. John Chick could out-perform Baldwin and take his roster spot. It's possible. Chick was a superstar from the Canadian Football League and could apply this to the next level in the NFL.
Baldwin needs to watch out for Chick, or he could get cut like he did with the Bears.
9. Fred Bennett
Fred Bennett played great for the Houston Texans during the 2007-08 season and the 2008-09 season. The 2009-10 season was bit of a down year, as he only provided 18 tackles.
You never know, Bennett could be the odd man out. According to several depth charts, he's placed as the fourth or fifth man at cornerback. He better watch out.
8. Jarett Dillard
Jarett Dillard is placed as the sixth receiver on the depth chart. He is going to have to fight hard. He had six receptions for 106 yards with the Jaguars last year.
He could very well be on the hot seat as Tiguan Underwood, Nate Hughes, and Clarence Denmark could get him cut. A lot of guys are competing there. Guys may be getting cut, and Dillard may be one of those guys.
He's going to have to perform hard in training camp.
7. John David Booty
John David Booty earned a roster spot with the Houston Texans. He and Dan Orvolsky could compete for the second-string spot. There's bound to be one or two other quarterbacks that could compete against Booty, so he could be on the bubble.
He had a great college career, but since he entered the NFL, he hasn't done so well. Already cut by the Minnesota Vikings, Booty can't have him getting cut again with a young, skilled team in Houston.
6. Marcus Howard
Marcus Howard was cut by the Indianapolis Colts and was signed by the Tennessee Titans afterward. He is undersized for a defensive end at 6'0″ and 237 pounds, but he plays with heart.
He's going to have to work very very hard in training camp. Howard is going to be competing against several guys, and he doesn't want himself to end his time with the Titans like he had in Indy.
5. Ryan Moats
Ryan Moats was a great pick-up for the Houston Texans earlier, but things could end now. The team has Steve Slaton and Ben Tate running the offense well. Arian Foster hopes to be a promise, too.
If Moats can't outperform them, he could be cut as well. This is very likely to happen, although as crazy as it may sound, though.
4. Chris Crane
Chris Crane was brought in by the team to provide depth. But Drew Willy was brought in to maybe compete, but he was the one who turned out to be cut. With training camp coming in, Indy will bring in some QB's who could compete against Crane.
Already parting ways with Jim Sorgi earlier, the Colts need a good back-up. Crane won't be a helpful addition and he could get cut…easily.
3. James Casey
James Casey currently holds the backup fullback and fifth tight end position on the Houston Texans roster. This is something you can't feel all that comfortable about.
So, hence, it may be due to a fact that Casey could get cut, easily. He has a better chance of getting cut than his fellow teammate in Moats and rival Chris Crane.
2. Montavious Stanley
Montavious Stanley currently holds the third spot as the left defensive tackle spot with the Jacksonville Jaguars. Not a very comfortable place to be in.
With several guys like Tyson Alualu ahead of him, Stanley could be on his way out. I think he will have a fight in training camp to earn a spot with the team against a guy maybe like Walter Curry or so.
1. Andre Davis
Andre Davis is a very talented receiver. The nine-year veteran, however, didn't see much action, having only six catches for 59 yards that year. As the fourth receiver on the depth chart, that is something you don't want to see.
Guys like Jacoby Jones, Trindon Holliday, and Glenn Martinez could also beat out Davis. Davis is the most talented on this list and has so far has the best career out of everyone.
He may be the odd man out. He's going to have to really step it up coming into training camp.