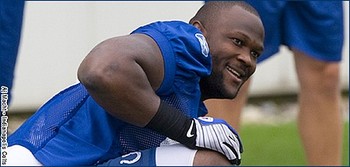 The Indianapolis Colts' training camp starts in two days on August 1st.
A lot of position battles, roster spots, signings, and other.
I will be providing updates from the Colts' training camp every Monday/Tuesday and Thursday/Friday. It's going to be fun and I will also be providing some analysis, news, and opinions.
Here is a little preview before training camp starts.
Enjoy.
Defensive Tackles Have Something To Prove
IndyFootballReport.com and Colts.com writer, John Oehser, caught up with the Colts' defensive tackles.
They say they have something to prove. They were pretty good defensive tackles last year. Actually, the best we have seen in years. But they want to be great and on top.
Antonio Johnson, Fili Moala, Daniel Muir, and Eric Foster all want to prove that they can be one of the best defensive tackle duos and one of the bests in the league.
I look forward to them stepping it up in training camp. I see high hopes for them.
Jamie Silva To Be Confident and Proud
Jamie Silva has never been a confident man. But he plans to be confident this year and looks to step up his game.
It seems that he will compete for the punt return and kick return job with several other guys like Brandon James and Ray Fisher after Chad Simpson was released earlier.
The Colts are in need of a good returner, something they haven't had in years.
I look forward to see these three guys to compete.
Pat Angerer Signed
Indy is getting their rookie contracts done pretty fast. They just signed former Iowa Hawkeyes linebacker Pat Angerer to a four-year contract worth $3.14 million deal. This also includes $1.35 million guaranteed.
"It's been a pretty fun experience," Angerer told the Indianapolis Star. "It's been a fun summer, but I'm ready to get to work and ready to do everything I can to help this team win."
Angerer can be a starter in the next following years. Rumors started coming up that Angerer would compete against Phillip Wheeler for the outside linebacker job.
Ricardo Matthews Signed
Seventh round draft pick Ricardo Matthews was signed to a four-year contract worth $1.83 million.
Matthews is the last of the seventh rounders signed to a contract alongside with Ray Fisher and others. Matthews will help add depth and could see some playing time.
Jacques McClendon Signed
The Colts' fourth round pick, Jacques McClendon, was signed to a contract as well. McClendon was a 300-pound offensive lineman from Tennessee.
He will help add depth to the o-line and can hopefully become a starter someday.Brody Eldridge Signed
Fifth-round pick Brody Eldridge was also signed. Eldridge is going to be important to the Colts this season.
He will help on occasions where the Colts need an extra blocker. Eldridge is that guy. Expect to see him in formations with two tight ends sometimes.
Will the Rookies Get Signed?
The Indianapolis Colts have yet to sign Kevin Thomas, who is out for the season, and Jerry Hughes.
Only the players under contract are allowed to report to training camp. If they aren't signed soon, they could have to wait.
Keep An Eye on Devin Moore
Devin Moore is going to be an interesting player coming into training camp. I bet I will be analyzing him a lot this training camp.
Moore is a running back from Ritters and was signed to a contract back in January. But it is going to be very tough for him to make a roster spot.
It's either the Colts keep three running backs or four. That's what's going to happen. If they keep four, they know Moore performed well.
"Devin grew up dreaming about catching the ball from Peyton Manning," Shelia Moore said, who is Devin's mother.
Moore is going to be very interesting to watch. I have my eye on him.
What's the Latest on the Disgruntled Bunch?
Robert Mathis and Reggie Wayne wanted to hold out since they weren't getting their money. Don't worry guys, you will.
But according to the Indianapolis Star, both have agreed to come to training camp and practice with the team.
"Maybe it is time to play some football," Wayne wrote on his website. "Not much else to talk about at this point in time. I'm about to go sit by the pool with a glass of lemonade . . . and enjoy my last few days of freedom."