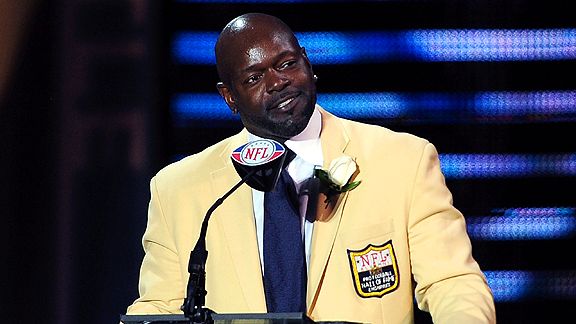 Breaking a lot of records is truly great. Winning the Super Bowl is a bittersweet moment. So are several other notable accomplishments like the Most Valuable Player of the Year along with the Offensive and/or Defensive Player of the year. Having a couple of Pro Bowl invites is also neat and swell.
But you never know that you are truly one of the best players in the National Football League when you make the Pro Football Hall-of-Fame. And that is the best moment yet. This year, we haven't seen that many candidates enshrined as Hall-of-Famers for about a decade now. Two players hold the top records in their position class, who are Emmitt Smith and Jerry Rice. But we'll get to that a bit later.
These players have long waited to be enshrined and deserve every moment. Most recently, Dallas Cowboys' wide receiver Michael Irvin had one of the most memorable and well thought-of speeches in the Pro Football Hall of Fame Day history. This year, other players looked to match that; dealing with emotions, having tears of joy, and enjoying every little sweet moment.
Enter a little wide receiver from Mississippi who was drafted by Bill Walsh and the San Francisco 49ers after playing in a small-college. Nobody knew of his talent. This man was Jerry Rice. But he was going to show everybody what he was capable of, for 21 straight years. Many doubted him, after running a 4.71 in the 40-yard dash at the NFL Combine. According to the documentary at NFL Network about Rice, he used to chase horses and boy did he show his speed and made that 4.71 run a distant memory. Rice played hard with the 49ers and delivered three Super Bowls for them playing under two great quarterbacks in Joe Montana and Steve Young. Rice retired in 2000, but came back and played with the Oakland Raiders. He didn't lose anything, making the Pro Bowl and still putting up top-five wide receiver numbers even at his age of 40. He would later go to the Seattle Seahawks, still showing the goods even at 42. He then ended his career with the Denver Broncos, after he knew he wouldn't start anymore and would be a fourth option on the depth chart at best. He lived a great career and was finally enshrined as a Hall-of-Famer.
"This is finally it," he said. "There are no more routes to run, no more touchdowns to score, no more records to set. That young boy from Mississippi has finally stopped running.
"Let me stand here and catch my breath."
Enter a man named Emmitt Smith. Many would question his talent and ability due to his small size, but he could deliver and make a knockout punch. With his triplet teammates back in the 1990's with Michael Irvin and Troy Aikman, they were already enshrined as Hall-of-Famers. Now it had to be Smith's turn. He had to run to glory, making his goals for his career. These goals included being the NFL's all-time leading rusher, become MVP of the league, and win the Super Bowl. And all of those accomplishments were checked off. He ran for over 18,000 yards, won MVP, and is a three-time Super-Bowl champion. All of this has paid off with an enshrinement. And he well deserved it.
"Most people only dream," Smith said. "I not only had my childhood dream, I did everything I could to fulfill it.
"You know what, I am now the all-time leading rusher. Wow. What an honor."
Enter a man who is currently one of the top defensive coordinators in the league, Dick LeBeau. LeBeau is currently known as the defensive coordinator for the Steelers and masters the team's 3-4 defense. But he was a master at the cornerback position in his playing days. LeBeau had 62 interceptions for his career in 14 years. His interceptions count ranks eighth overall in league history.
"I am being inducted as a player and believe me that makes me most proud," said LeBeau, at 73 the oldest coordinator in the NFL. "I did that for 14 years. but for the last 38 years I have been a football coach.
"They are here," he added, pointing to the Steelers, who he helped win two Super Bowls in the last five seasons. "That's just about the highest compliment ever paid to me in my life.
"I wouldn't want to be here without you: offense, defense and special teams."
Enter a man who had to work extremely hard for a roster spot and turned out to be one of the best defensive ends in National Football League history. His name was John Randle, who was most notably known for his ten-year stint with the Minnesota Vikings. He would deliver 137 sacks in 14 seasons, which is most than anyone at his position. A very humbled man that is enshrined as one of the bests.
"I am so humbled by this incredible honor which I never thought was possible. I'm a smalltown kid whose dream came true," Randle said.
Enter Russ Grimm, who was the anchor of the Washington Redskins' offensive line. He helped the Redskins to a couple of Super Bowl titles and was one of the best offensive lineman in NFL history.
"It's a privilege to play in the NFL," said Grimm, now the assistant head coach of the Arizona Cardinals. "It's been a privilege to coach in the NFL. It's an honor to be selected here in Canton.
Enter the anchor of the New Orleans Saints' defense. His name was Rickey Jackson, and he made six Pro Bowls along with producing 128 sacks. Jackson helped the Aints become the Saints again, helping them win their first win division in the 1991 season. All his hard work paid off with a Super Bowl win when he played with the 49ers in 1995. But everything has fully paid off, as he is a Hall-of-Fame linebacker.
"I think I deserve to be up here," Jackson said. "Football always has been my life. I see that in these guys up here [onstage], how they carried themselves. They set the standard."
Enter a man who had delivered so much for his team. He did everything. He led the team in receiving, returns, and running. His name was Floyd Little and played with the a terrible team named the Denver Broncos. The Broncos were just simply terrible at the time, and when Little retired, he was ranked seventh overall in rushing. He never had a Pro-Bowl offensive lineman. He simply did everything by himself. If his team had the supporting cast like many of the top running backs today have, Little will be on top easily. He got a lot of help from a man who admired Little. Just glad to see Floyd in the Hall-of-Fame. One of the most underrated Hall-of-Famers in history.
"There are no words to describe the joy of experiencing this chapter, the highest honor … everything else pales," Little said.
All of these guys deserve what they had done in the National Football League. They worked hard and you couldn't imagine what they have gone through.
Someone matching their talent will never be the same.
They were the kings of the gridiron.
And it has all paid off.
Because they are now in the Hall-of-Fame.