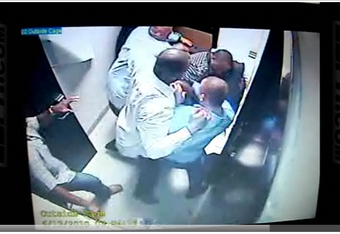 Above is a screenshot I took from the video of Vince Young fighting with the Dallas policeman.
Young is pictured as the man with the white shirt trying to beat up the man in the blue shirt.
This happened after being with a couple of people at a local Dallas-area strip club.
After this, Young was issued a Class-C assault and could have a fine that can go up to $500 at maximum.
It isn't a big issue in Dallas, since it is Young's first offense. The National Football League will invesitgate this, but it isn't much of a league issue either.
As it all goes down, it is just a team issue.
It won't be all that negative but the impact won't be all that bad either.
Young will probably have a talk with Jeff Fisher and as mini-camp comes, he will most probably apologize to the team.
Young has built himself back up as the Tennessee Titans' starting quarterback after he lost his starting job to Kerry Collins in Tennessee's run to the playoffs back in the 2008-09 season.
Will this incident misplace Young's spot on the depth chart?
No, not at all. No need to worry there.
Here is a bit more of the report from the Associated Press releae:
Video surveillance shows Young trying to get through people surrounding a man identified as Creiton Kinchen inside an office at Club Onyx after Creiton apparently insulted Young and made a derogatory sign referencing the University of Texas, Young's alma mater. A brief scuffle ensues.

"[Kinchen's comments] obviously made Mr. Young upset," Dallas police Lt. Craig Miller said. "That conversation continues and there was more accusations against the University of Texas which prompted, in this case, Mr. Young to come back into the room where he just about exited."

According to the police report, Kinchen sustained a bloody lip in the fight, but did not require medical attention.
Young is looking for a bright new year and at 26-13 as a starter, he hopes to lead the Titans through the tough AFC South division.
Titans' fans, don't worry about VY.
I don't think anything bad will happen after this incident.