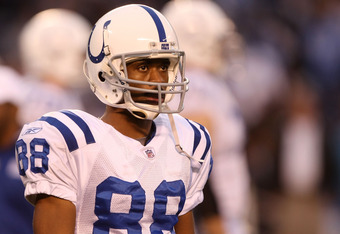 According to ESPN.com, Marvin Harrison was surrendered to take over his 9mm handgun to the Philadelphia police.
The police will now test the gun, if it has anything to do with the 2008 Philadelphia shooting scene.
Harrison was stopped by a traffic light after making a wrong turn. The place where he surrendered his gun was three blocks away from the 2008 shooting scene.
The 37-year-old Pro-Bowler was released by the Colts a year ago. He was part of the famous 1996 NFL Draft class that included Ray Lewis, Terrell Owens, Muhsin Muhammad, and a bunch of others. He has 1,102 receptions for 14,580 yards and 128 touchdowns for his 13-year-career.
He surrendered his gun in his Cadillac Escalade, according to the source. The police saw that he may have a gun in the seat console of the vehicle. The police searched and found the gun. Harrison said he had registration and everything for it.
He was then with the Philadelphia police, but was then later released.
Harrison is now currently labeled a person of interest from the April 2008 shooting incident. It happened with ex-con, Dwight Dixon. He said he was shot by a second firearm owned by Harrison but the police couldn't track the weapon. Then a bystander was shot and a little boy was injured in a car from glass being shattered.
Now the police will test Harrison's 9mm handgun that surrendered. The police was see if it had anything to do with the 2008 shooting. They said the results will come soon.
This may end the unsolved mystery case.
I wish all the best for Harrison and I hope nothing bad happens. But it probably will. Harrison may in fact have participated in the shooting.
Now the 1996 NFL Draft class is falling apart. Muhsin Muhammad retired, Terrell Owens can't find a team, and now Marvin Harrison may get busted.
Wow.