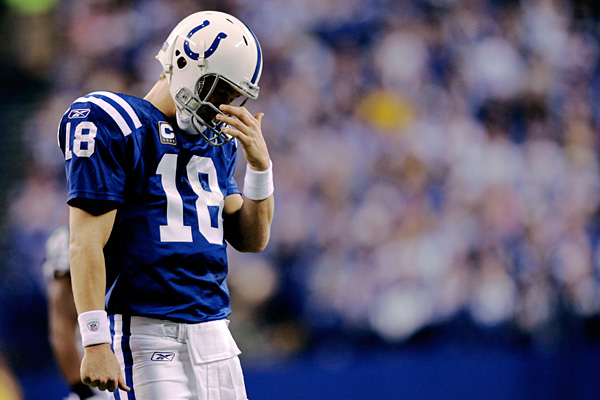 If you want to blame Peyton Manning in this game, you are completely blind to reality. Peyton Manning did everything he could on offense, going 18-of-26 for 225 yards with a touchdown along with a 108.7 rating. There was no interceptions. Manning played great.
Excluding the drive with ten seconds left in the first half, the Colts truly had only eight offensive drives to work with. They scored on four of them. If Manning had all his weapons in place on offense like many of the other quarterbacks like Tom Brady and everyone else had, it would be an easy win for the Colts. But dealing with guys like Blair White and such, the Colts couldn't win like they hoped for.
It seemed like they had the job done. On a crucial third down with one minute left, Manning found White open for a first down. Manning made a dash to the right and threw to White, but he couldn't hold on as he tried to make a somewhat of a diving catch. If it were Reggie Wayne or someone else, it would have been a first down. I'd take a 20-14 lead any day over a 16-14 lead. But since White couldn't hold on, Adam Vinatieri converted his clutch kick of 50 yards to give the team the lead.
Manning did everything he can. No he had to watch hopelessly on the sideline, hoping a Colts' defense could stop this Jets' offense. But I could sense something. It's just like all the previous playoff games. Something was going to happen, and Manning would sit there on the sideline, knowing that he can't do anything about it.
It all started out with an Antonio Cromartie kickoff return all the way close to midfield. And that was the start of a heartbreaking drive for Colts' fans. Mark Sanchez will help lead the offense down the field, and eventually found a huge pass to Braylon Edwards to set up a game-winning field goal for Nick Folk. He made it. 17-16, New York Jets. It was over.
With that, Manning dropped to 9-10 in the playoffs. But in this game, you can't blame it on him.You just can't. There is always excuses people say for other quarterbacks. But many always give the most to Manning.
The Colts have only two elite players on defense and they are Dwight Freeney and Robert Mathis. They couldn't do anything about Edwards. Only Jacob Lacey could. Lacey was originally, like what, a fourth or fifth-stringer? You really expect him to guard Edwards, who has way more experience than Lacey?
What about the Patriots? I bet you could name at least three elite players on their defense. I can name four: Vince Wilfork, Jerod Mayo, Devin McCourty, and Brandon Meriweather.
Or the Steelers: Casey Hampton, Lamarr Woodley, Aaron Smith, James Farrior, James Harrison, and Troy Polamalu.
But of course, many try to say Big Ben and Brady are better than Manning because of rings. Listen, how many rings can Brady have without Vinatieri? Without his defense? None. Why say everything for Manning all the time?
Let's compare for a second:
Elite Offensive Lineman
Patriots: Matt Light, Logan Mankins, Dan Koppen
Colts: Jeff Saturday
Manning had a terrible offensive line to deal with and a defense. Why give so much love to Brady all the time when he has so many weapons. A guy like Curtis Painter could not succeed with all the talent around him. Matt Cassel could. He was 11-5 starting with the Patriots. Painter is 0-2 with a rating at least 40 points lower than Cassel.
With this, I will continue to go with Manning any day. The Colts just couldn't get the win. It wasn't their season at all. With all the injuries surrounding them, Colts' fans need to be grateful that they even made it this far. 10-6 is a lot better than I thought when they were at a slump to 6-6. And hey, they almost got those Jets.
The defense just couldn't hold on. It was a good season at best. Everyone will be healthy next season, hopefully. And I know they will be a lot better than this year. And letting you, it was never Manning's fault for this game. And he's still the best.
Best of luck to the Jets.